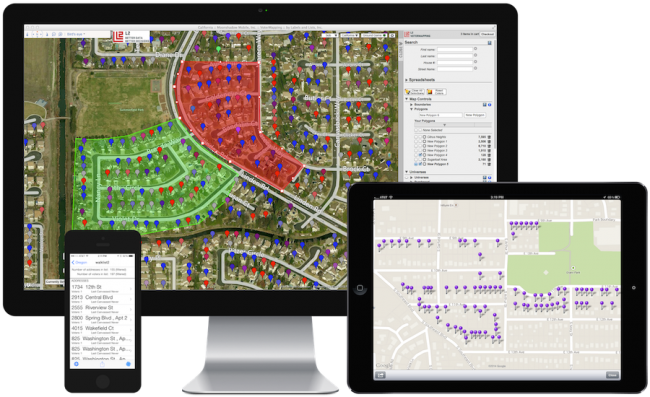 A door-to-door mobile sales app with 220 million names with addresses
Ground Game® is the ultimate mobile sales app to streamline your door-to-door (D2D) sales. Enter data directly from iPhones, iPads and Android mobile devices. Results are synced to the central database and updated in the online management interface. Follow your sales reps in real time on maps. Access detailed data on 220 million people in the US directly from the Apps.
No more random selections, no more knocking on doors without knowing who lives there, no more double visits, no more clipboards or hand written notes, no more losing track of sales reps in the field and no more data entry (if it was even happening in the first place). The Ground Game® mobile sales app completely changes the way door-to-door sales are done. Ground Game® was developed for political canvassing and has won numerous awards from political organizations. It has now being rolled out for commercial use nationwide.
Ground Game® is a groundbreaking mobile canvassing app for door-to-door (D2D) sales.
Version 2.0 of the award-winning mobile software application includes an extensive list of improvements and enhancements that will give your sales team a clear advantage over the competition. Ground Game® gives your door-to-door canvassers direct access to manager-generated walking lists, survey questionnaires, regularly-updated commercial data from L2 and interactive maps. Ground Game's® combination of satellite and street mapping with accurate commercial data about the adult population is astounding! No more clipboards, no more paper and pens, instant data entry of customer prospect responses from the field.
View walking lists and satellite maps of the neighborhoods they are walking with the mobile sales app

See the superimposed locations of individual houses containing the targeted leads with the mobile sales app

View relevant information about those leads with the mobile sales app

Conduct a survey questionnaire at their door and collect relevant sales data with the mobile sales app

Instantly upload/synch the responses to secure central servers that manage the data

Ground Game® features "storage on device" which means you can canvass even without a cellular connection
View the locations of sales reps in the field and monitor their work in real-time

See a complete overview of the adult population database overlaid on Bing Maps

Use filters, attributes, polygon tools to create targeted walking lists, contact lists etc.

Filter/target by, age, gender, marital status, income, home values and many other attributes.

Build a sophisticated database of information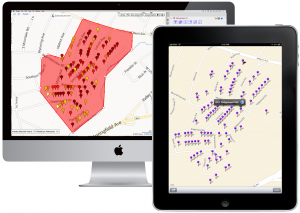 Ground Game® is fully integrated with an online management interface and commercial adult population data for 220 million U.S. residents.
Don't waste time knocking on every door. Create targeted walking lists. The combination of Ground Game®, its online management interface and L2's adult-population commercial data delivers the industry's most technologically advanced suite of population analysis, micro-targeting and mobile canvassing tools available. Create targeted walking lists by making selections from hundreds of data attributes related to income, lifestyle, age, home values etc.
Award-winning door-to-door mobile canvassing and geospatial visualization technology.
Ground Game® is the recipient of the 2011 "Best Mobile Application" award from the American Association of Political Consultants. Our technology will give you an edge on the competition.
Ground Game® is not only the most powerful mobile canvassing tool available but it's also remarkably affordable for businesses of any size.
Users – Sales Reps
Included
Ground Game®
(6 Month Minimum)
Ground Game®
Price/Year
Additional
Users
Commercial
Data Records
5
$600
$1,200
$20/month/user
2.5 cents/record
15
$1,200
$2,400
$13/month/user
2.5 cents/record
50
$3,000
$6,000
$10/month/user
2.5 cents/record
200
$6,000
$12,000
$5/month/user
2.5 cents/record
At Moonshadow Mobile we go the extra mile to ensure that your experience using Ground Game® is backed up with training, assistance and education in how to get the most out of the mobile canvassing software, management interface and adult population database. Our support staff is dedicated to developing ongoing support relationships with our clients. The members of the Moonshadow support team are literally experts in actually using the door to door sales software. They aren't robotic agents sitting in cubicles relying on a database of canned answers to common questions.
Our support staff has direct access to the software development and database engineering teams and can interact with them to resolve any issues that may arise. If you have questions, comments, or concerns, simply ask. We're only a phone call or email away!

iOS Devices Minimum Required Specifications:
Devices: Compatible with iPhone, iPad and iPod touch.
Operating System: Requires iOS 5.1.1 or later
Android Devices Recommended Specifications
Operating System: Android 4.0 "Ice Cream Sandwich" or later
Memory: 1 GB RAM or better
Processor: Quad-core or Dual-core 1.0 Ghz or better
GPS
  For more information about the Ground Game® Door-To-Door Mobile Canvassing Software.