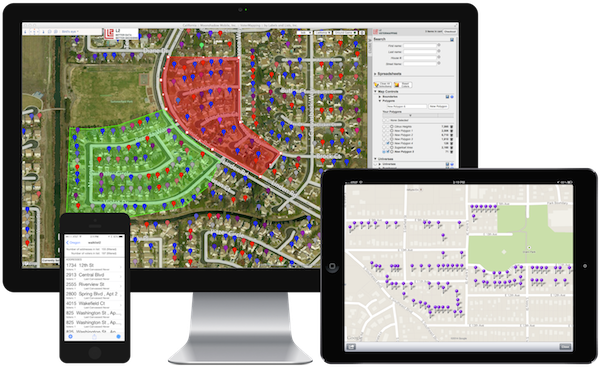 Canvassing With Apple iOS Devices
Step-by-step instructions for using an iPhone, iPad or iPod Touch device.
Canvassing with Android Devices
Step-by-step instructions for using Android phones and tablets.
Ground Game Management
Creating users, editing users, creating surveys, assigning surveys to walking lists, assigning walking lists to canvassers.
Walking List Routing
Defining a specific route order and address sequence for a walking list.
Histogram
The Histogram is a bar chart that displays all data collected on a survey. It utilizes filters so you can use the Histogram to determine how much data you've collected, by whom, over which time periods, about which demographics, etc.
Ground Game Web
The desktop web-browser version of Ground Game designed for phone banking.
Interface Controls
Learn about the various controls used to navigate the map and the side panel within VoterMapping
Boundaries
Apply boundary layers to the map to easily visualize selected area-type boundary areas.
Masking
Masking allows you to select and highlight individual regions from within a single boundary layer, while masking over any unselected regions.
Polygons
The Polygons tool allows you to create your own geographical/area filter to select voters, by drawing shapes on the map.
Map Controls
Choosing between road, automatic and "bird's eye" satellite view, as well as zoom level.
Data Source Selection
Filtering using data source selections and voter attributes.
Colors
Change the display colors of data attributes and boundaries.
Dots (Map Markers)
Using the controls for map dot size, density and transparency
Choropleth
Color geographical areas based on the relative concentration of an attribute selection.
Heat Maps
Heat Maps uses a color scale to show the concentration of selected attributes within an area.
Universe Creation
Use area filters and attribute selections to create saved universes of voters that you can recall, assign as walking lists, export etc.
Popular Universe Creation Filters
An overview of the filters most frequently used to create universes.
Purchasing Voter Records
Instructions for purchasing voter records for export or use in walking lists.
Exports
Exporting voter records and/or survey results.
Spreadsheets
Using the online spreadsheet tool to analyze voter data quickly and easily.
Search
Using the search tool to in VoterMapping to look up an individual voter.