Techradar writer James O'Malley authored a recent online article titled "In Election 2016, the war for your vote has become the war for your data." O'Malley quotes Moonshadow President Bob Lee, our political data partner L2's Paul Wescott, Microsoft's Stan Freck and others in an overview discussing how data about registered voters and campaign software and mobile apps (such as Moonshadow's Ground Game and L2's VoterMapping) are impacting the 2016 election cycle.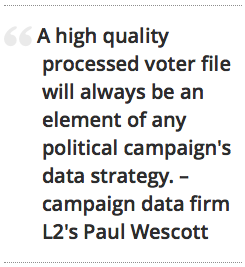 O'Malley goes into depth describing the richness of L2's "data dictionary" with examples of some of the many data points made available to political campaigns that go far beyond the basics such as name, gender, address, date of birth, party affiliation, registration date, voting frequency etc. as the core registered voter data collected from the states is combined with more extensive commercial and lifestyle data from additional sources.
Read the full article at Techradar here.