Residential Solar Installation is a new and emerging market. Like in all markets it takes a large amount of time and financial resources for businesses to find and connect with potential customers. Ground Game can help streamline your sales process by providing a steady flow of information and a set of organizational tools vital for running any door to door operation. The increase in efficiency can easily be worth tens of thousands of dollars or more in worker hours.
Ground Game is equipped with an extensive commercial database that contains well over 220 million adults across the United States. You will be able to filter and select people from over 200 demographic, economic, and social attributes such as Estimated Income, Property Type, Home and Land Values, Homeowner Status, Occupation and much more. This data is displayed over Bing Maps, allowing you to easily visualize where your target clientele is located. These selections can then be broken down into smaller, geographical based sections, to create walking lists for your door to door sales operations.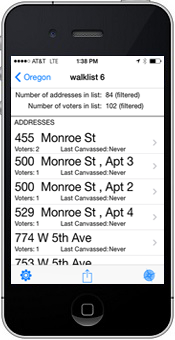 Armed with smartphones and tablets, your sales team can download their assigned walking lists directly onto their device, and go into the field to collect valuable information with the Ground Game mobile app. The information they collect is seamlessly sent back to the database and accessed from the mapping interface. From here you will be able to track your canvassers progress, conduct further analysis, or export the collected data to a csv file to feed into your CRM, further enhancing your work-flow.
Contact Moonshadow for more information or to schedule a demo of Ground Game.